(As originally seen on SRQ Daily)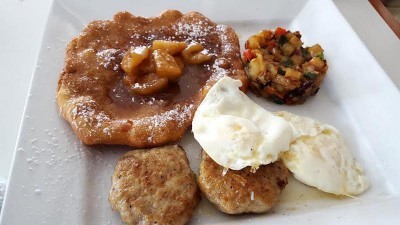 Why settle for French toast merely the size of a slice of bread? The Table Creekside shares this recipe, which will be served at a Mother's Day Brunch event on May 8. If ambitious young chefs want to wake up early and cook this up for mom, read the ingredient list carefully and give yourself enough time.
Ingredients: 2 cups flour; 2 eggs; 2 oz. melted butter; 2 Tbsp. white sugar; 1 tsp. salt; 1 tsp. baked powder; ½ cup water.
Combine all ingredients into a mixing bowl and knead until a soft dough forms. Add flour as needed. Let the dough rest covered in a warm dry area for at least 15 minutes. Cut the dough into 6 equal parts and shape to your liking. Deep fry until golden brown. Top with cinnamon sugar.
Ingredients (for topping): 3 green apples (peeled and cut into wedges); ½ stick of butter; ¾ cup brown sugar; 1 tsp. vanilla extract; 3 Tbsp. orange juice; 1 pinch salt; 1 tsp. ground cinnamon.
In a sauté pan, melt the butter and sugar and allow to caramelize lightly. Add remaining ingredients and sauté for 5 minutes until apples are soft. Place on top of Elephant ear and enjoy! Top with powdered sugar.
Serves six.
Tags: Ears, French Toast, Recipe